Wedding Venues and Banquet Halls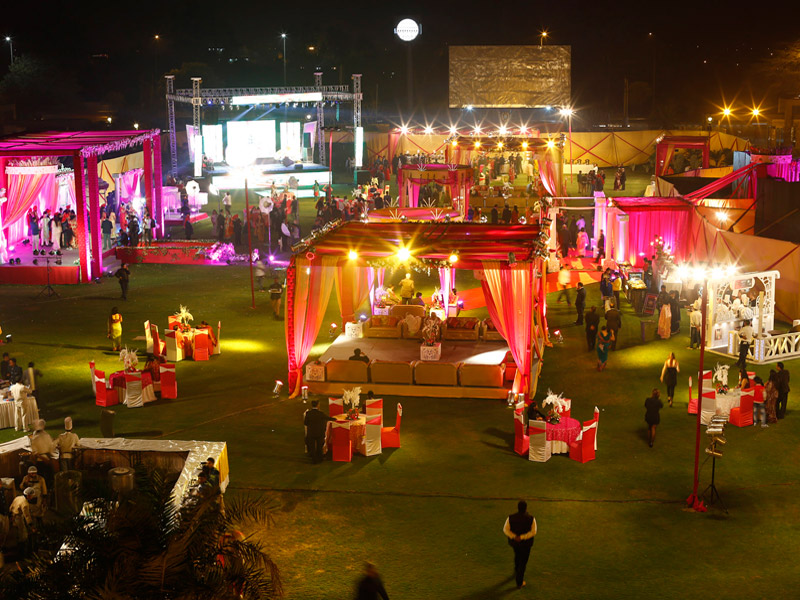 The Jehan Alipur
The Jehan is located in Alipur in New Delhi. It has beautifully decorated banquet halls, lush green lawns and beautiful terraces. The venue can accommodate more than 1000 guests in its multiple banquet halls and wedding lawns. The banquet halls on the ground floor can be easily combined with the wedding lawns. Jehan Hotel & Resort is a popular venue for Wedding Functions, Corporate Events, Birthday Party, Meetings & Conference, Fairs & Exhibition, Media & Press Event, Theme Party, Wedding Anniversary and all types of Family Function. The venue offers exquisite decoration, catering and entertainment services. It also has a licensed in-house bar. The venue also has 14 luxury rooms for out station guests. It has a multi cuisine restaurant named Awadi. It offers lip smacking vegetarian and non vegetarian delicacies. A team of expert chefs will provide you superlative food with fabulous taste, no matter how large is your gathering. Package starts at Rs 2150 per plate for vegetarian food and Rs 2350 per plate for non vegetarian plate. Two complementary changing rooms are also provided. So if you are looking for a signature wedding this is the place!!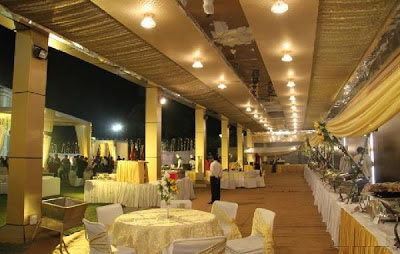 Lily White Banquet Resort Hotel Chattarpur
Lily White Banquet Resort Hotel is located on Main Chattarpur Road, in South Delhi. It is about 10 Kms from IGI Airport. It is a popular wedding venue spread over an area of 5 acres. It offers services which are customized to your needs. This venue offers 5 Star services at an affordable price. Lily White offers state of the art facilities for events like wedding functions, all types of family functions, product launches, fashion shows, birthday parties and corporate events. It has large banquet halls, party lawns and lush green gardens for any type of event. The venue also has specialized meeting rooms. You can organize functions here for as small as 50 guests to large functions up to 3000 guests. The venue also has reasonably priced large rooms for out station guests. The Royal Harris Ball Room is spacious and stylish with beautiful decoration. It can hold around 300 guests. Monte Carlo is column less banquet hall and can accommodate 100 people. Amanda Ball Room has a capacity of 1500 guests. Amanda Green Lawn can accommodate 1000 guests. Ficus Green Lawn is good enough for 600 guests. Ample parking space for 500 vehicles is available.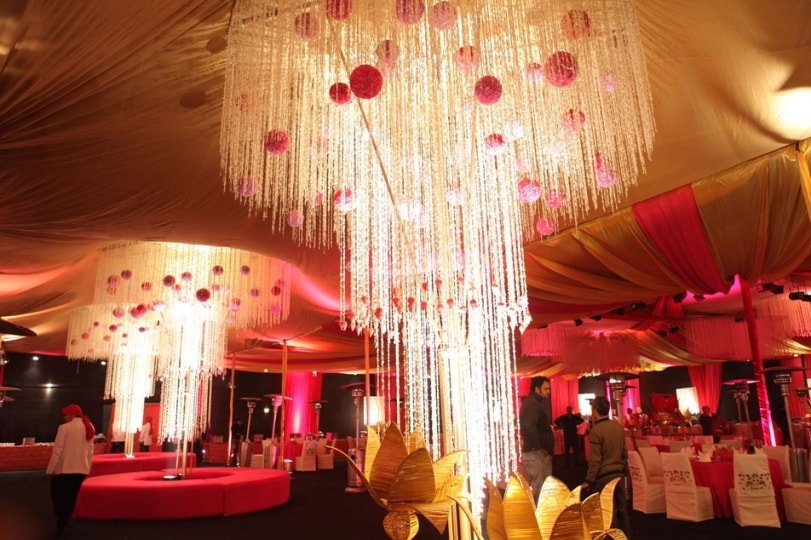 Opulent Motel Chattarpur
Opulent Motel is located in Chattarpur, New Delhi. It has both indoor and outdoor venues. It is a beautiful venue for destination wedding, mehendi ceremonies, pre wedding events, cocktail parties, family functions and corporate events. It has two banquet halls named Olive and Orchid. Both can be combined with a party lawn. Olive can accommodate 400 guests whereas Orchid can hold 250 guests. When combined with the lawns the gathering can be much larger, around 1000 people. Its decoration schemes are unique. Opulent has a team of professionals who will help you at each step of your special event. 17 rooms are also available for outstation guests. It also has a restaurant, bar and conference center. A complementary bridal room is also given. Ample parking space is available for 200 cars.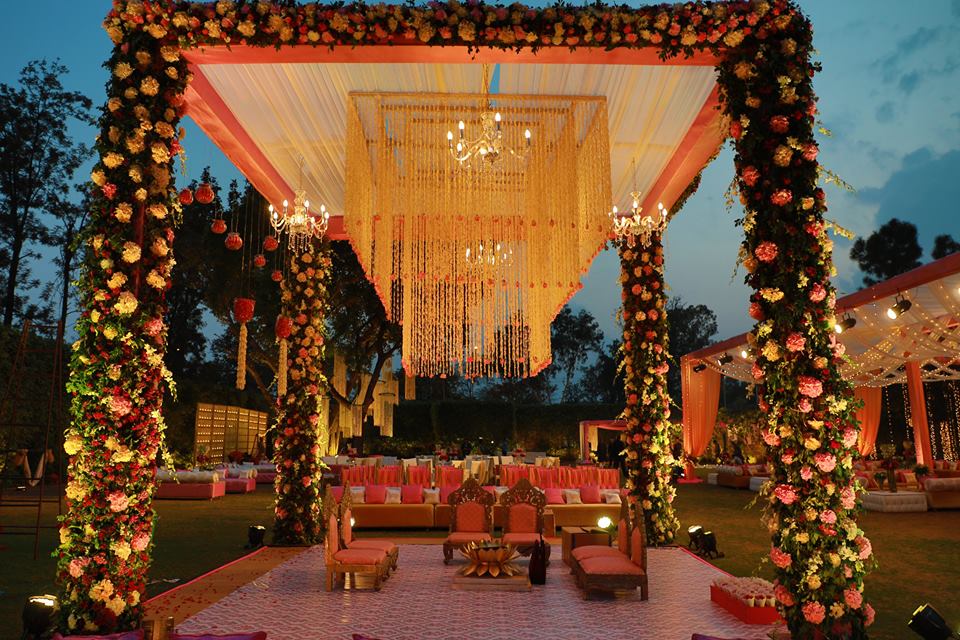 Amaara Farms Chattarpur
Amaara Farms Chattarpur is located in Chattarpur in lush green environment. It is a preferred wedding destination and is decorated with Balinese Theme. At the main entrance you will be greeted with serene statue of Lord Budha. During night the Budhs idol is lighted with shimmering light. This venue is a combination of both modern and traditional. It has a 7000 Square Feet all glass banquet hall. This magnificent banquet hall opens into a landscaped and manicured lawn of 55000 square feet. This lawn can hold from 250 up to 1100 guests. Leading professional caterers, decorators and entertainment agencies will assist you in making your event a success. One complementary changing room is also provided. It has 2 acre parking space which can hold around 500 vehicles.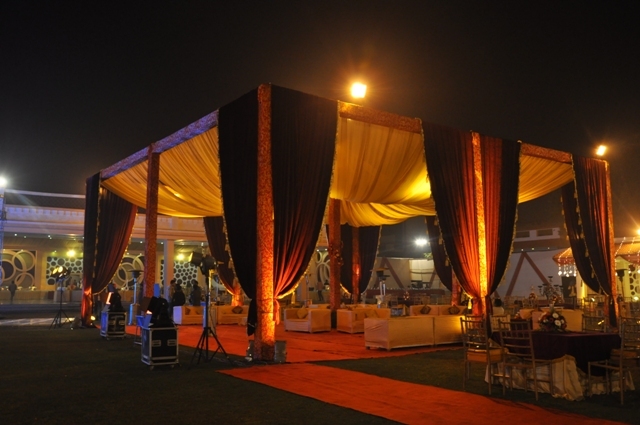 Radiance Motel Chattarpur
Radiance Motel is located in Chattarpur, South Delhi. Chattarpur is the nearest Metro Station. It has two banquet halls, one wedding lawn and one terrace for parties. This venue is very popular for all types of wedding functions like shagan, mehendi, ring ceremony, main wedding and reception party. It is also an ideal place for all types of family functions and corporate events. You can hold color theme parties, cocktail dinners and exclusive designer wedding at this venue. The venue is suitable for events where guest strength is from 150 people to about 1500 people. An expert team of event managers will assist you in catering decisions, crockery service, venue decoration, floral arrangement etc. Radiance also has 10 well appointed rooms for your outstation guests. Both vegetarian and non vegetarian food is served here. One complementary changing room is provided for the bride. The venue has a vast parking area.